Greetings All,
I have found a copy of a B&W photo of Sam Gonotsky-Mike Lieber, that I thought I would share. I had originally posted that this was taken during their 40 game match...but it was not. Their 40 game match was played in New York, this photo was taken outside of the home of Mr. Pennell, who is standing on the far right. This is in Flint, Michigan.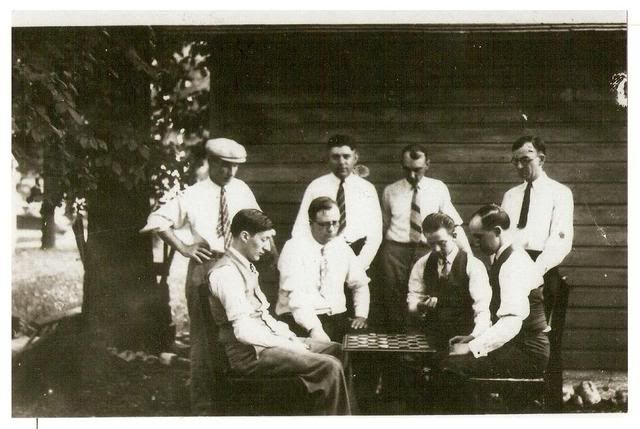 It has recently come to my attention that some of the images in some of my posts are showing up on some screens with a portion of the image cropped off. Usually on the right side.
The above image should have a 1/4 " white border around the entire image.....if you do not see this border around the entire image, then it is being cropped. ( I have always seen everyone of my posts perfectly on my PC)
PLEASE let me know via PM, or by replying to this post if you are not seeing the complete image (i.e., with a 1/4 " white border)
With the help of Liam Stephens, I believe I may have figured out what the problem is, and it might be with photobucket.....but, I will not know UNLESS YOU LET ME KNOW !( As I see all of my posts perfectly, and I am trying different settings in an attempt to correct this problem )
Thanx in advance !!!
And by the way, any comments on the photo are welcomed, encouraged and appreciated !!!
Regards
Jay H